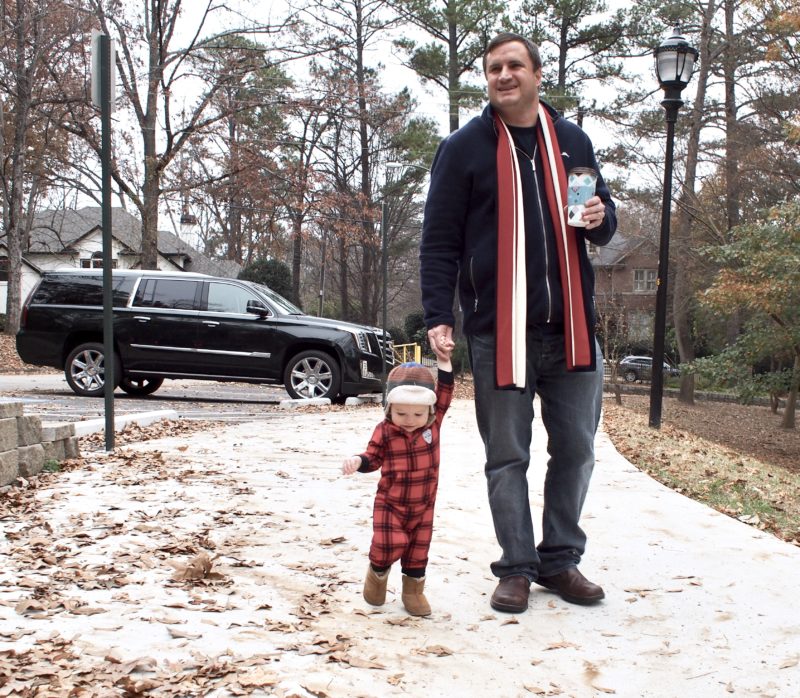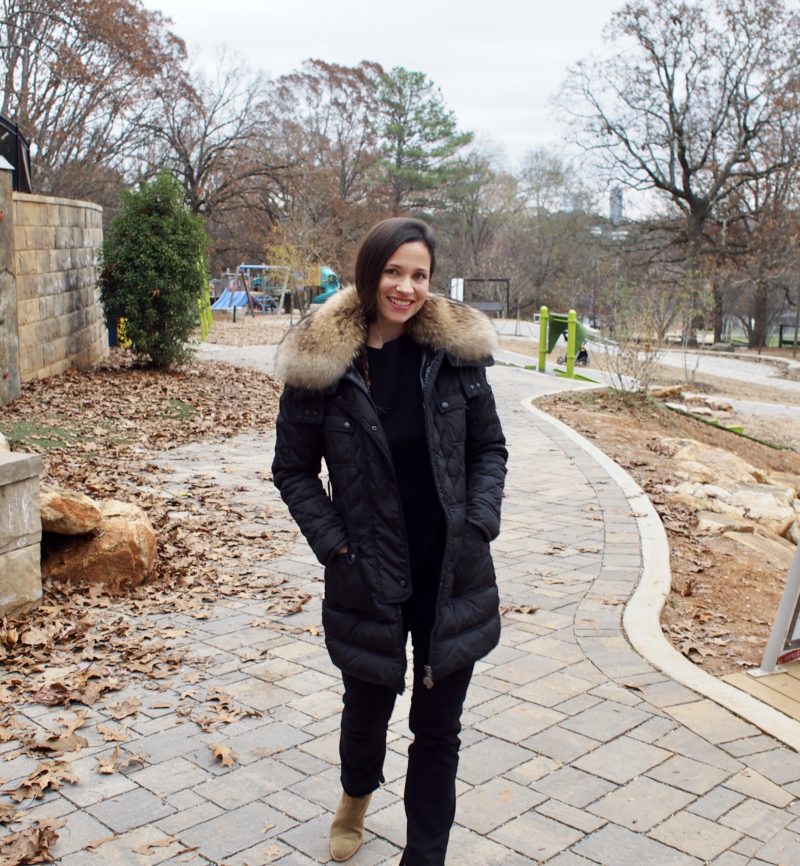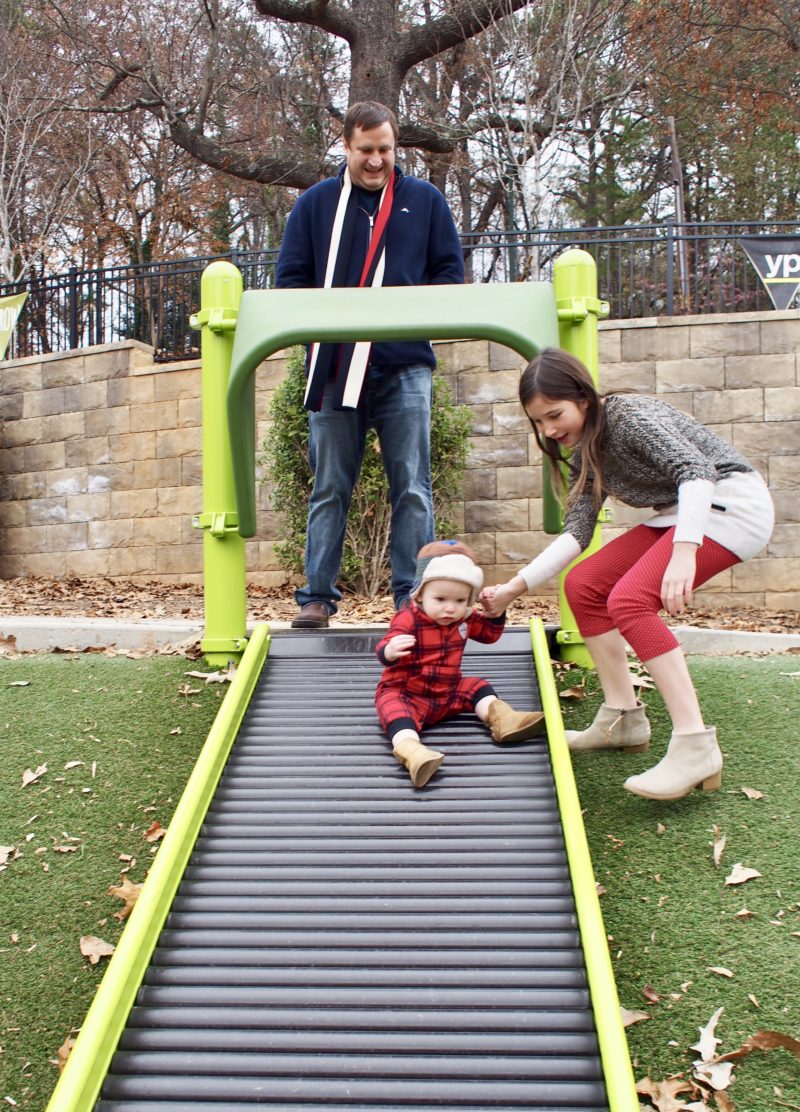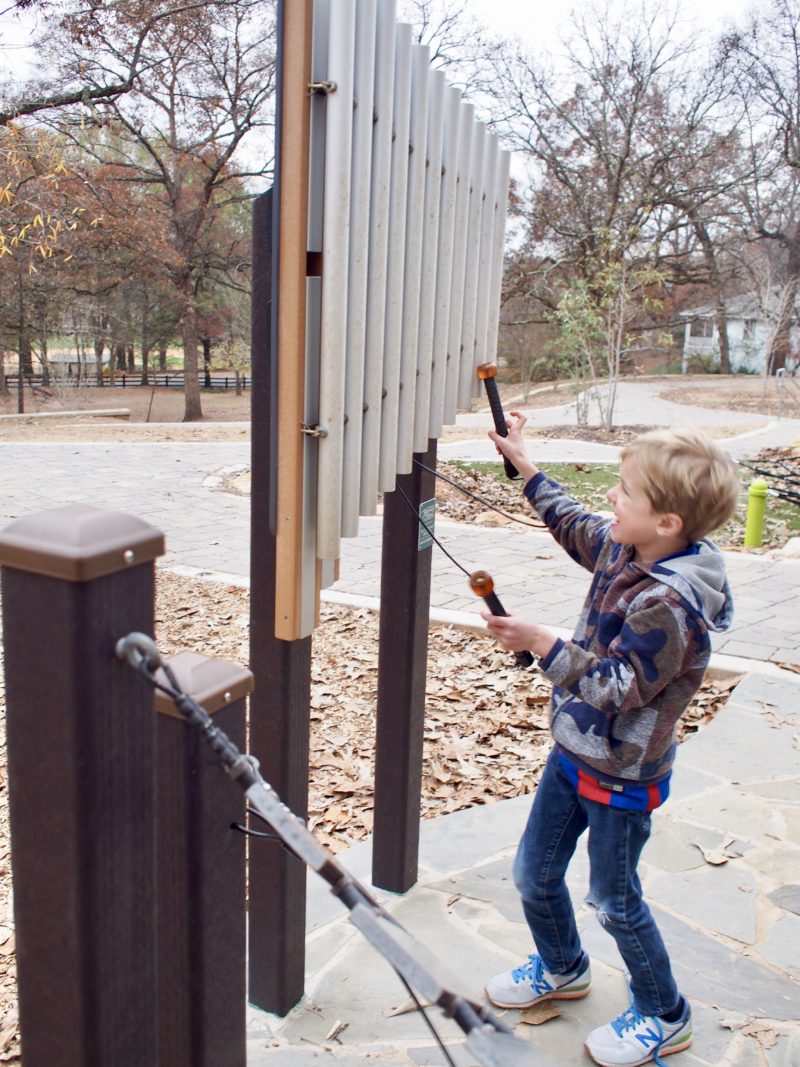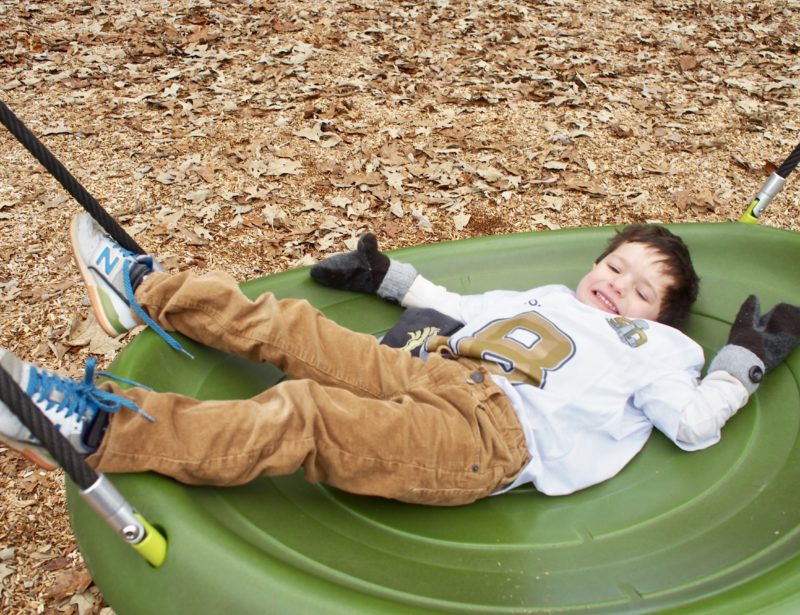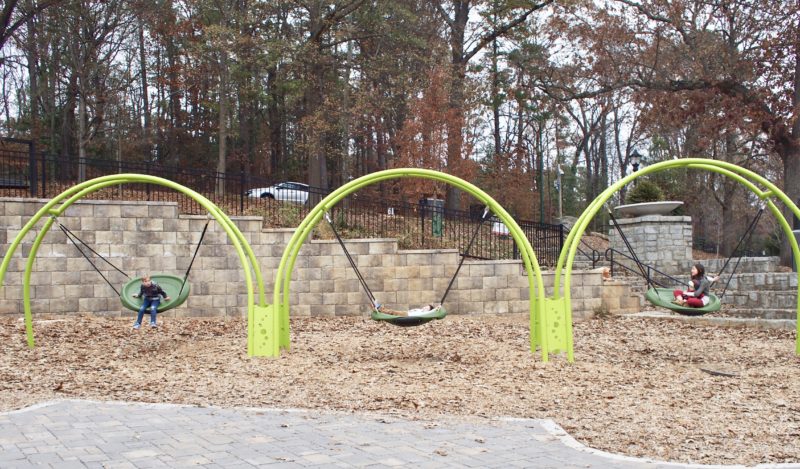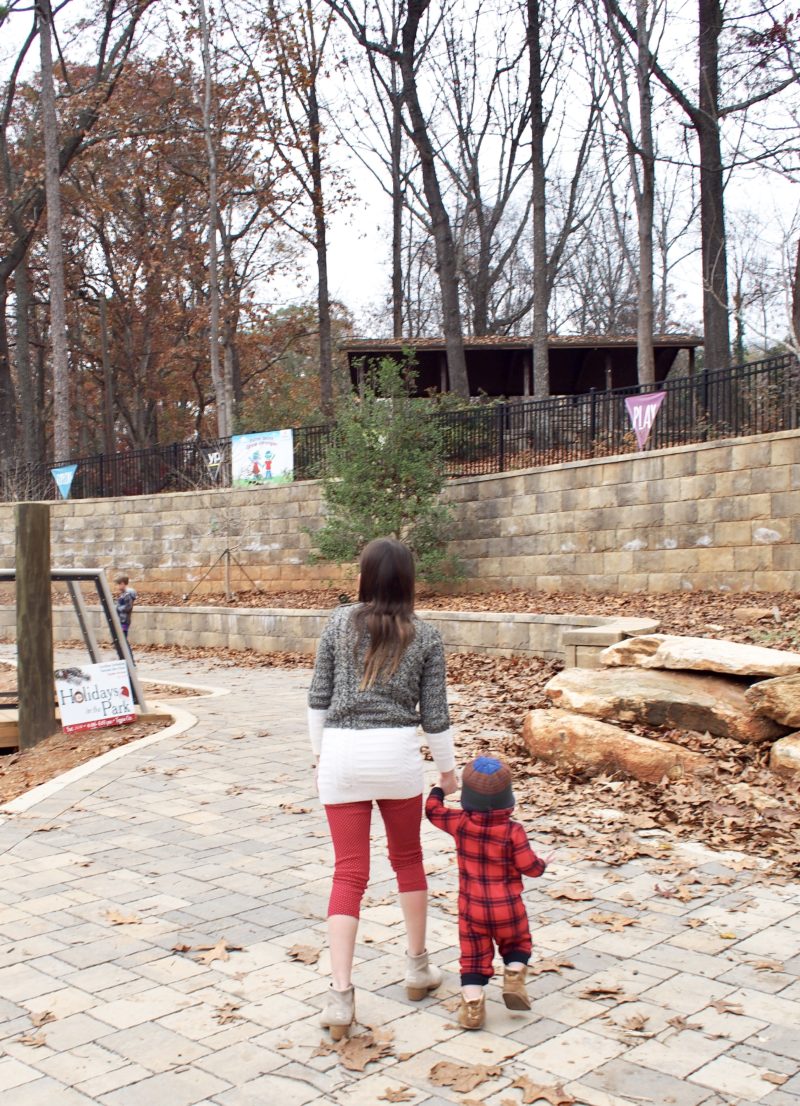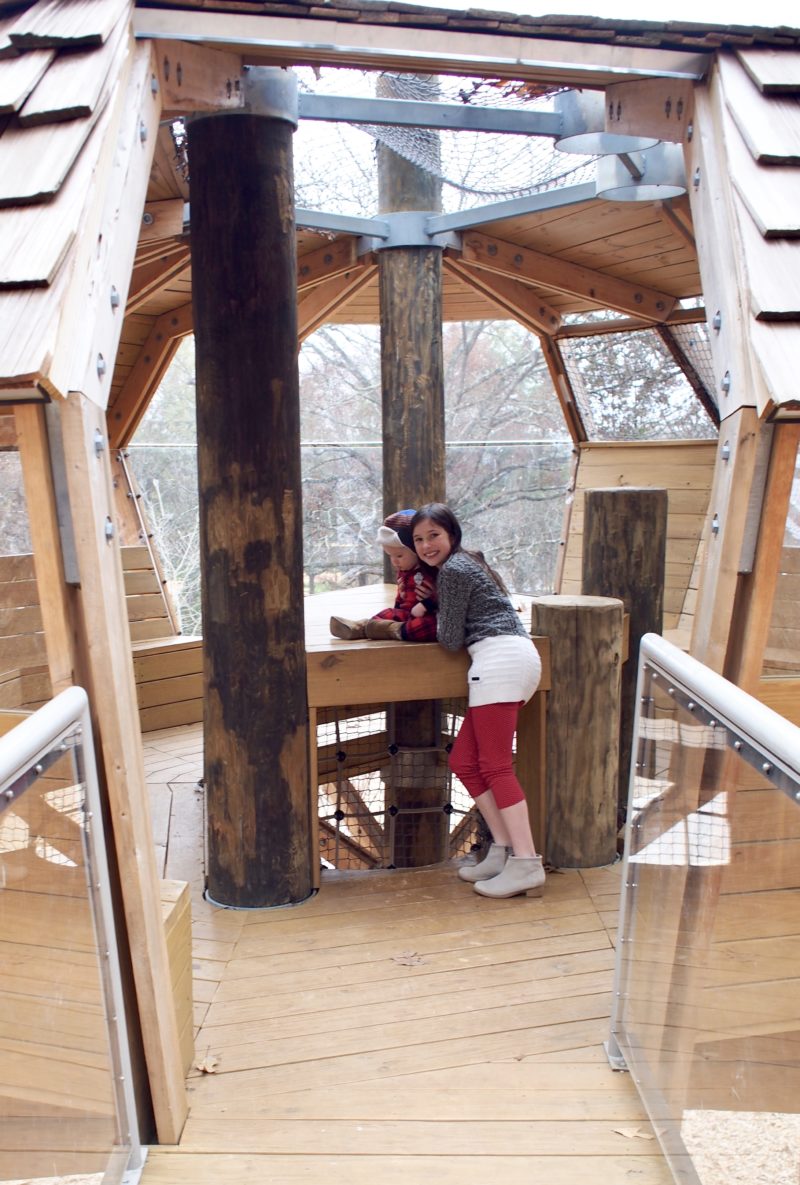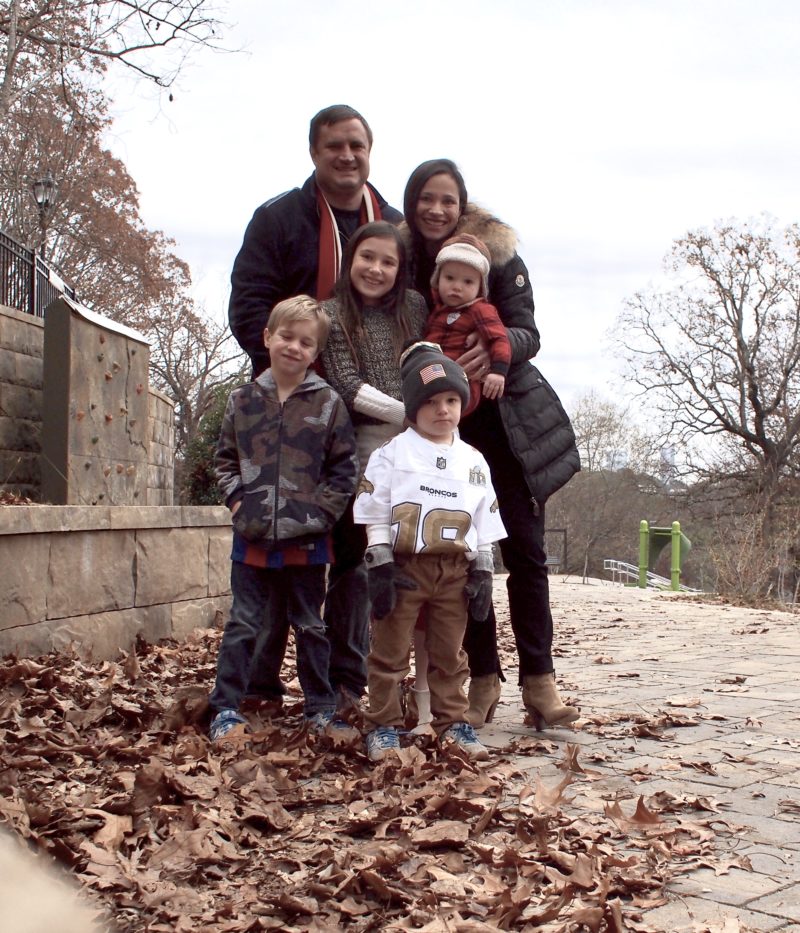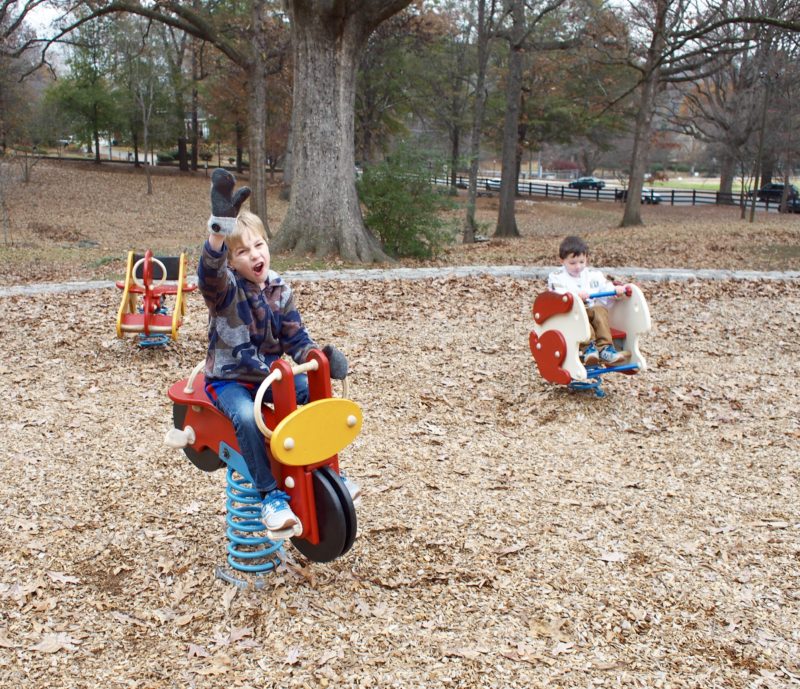 One Sunday we mentioned Chastain to this crew and we didn't hear the end of it until we were en route to play at the park.  This particular day at the park was a chilly December weekend in Atlanta, so some of us bundled up to adventure outside and as you can see others braved the cold with limited gear by their choice despite all my requests for jackets, hats and mittens. They didn't seem to notice the cold once we arrived at one of our favorite Atlanta parks.
We've been coming to this beautiful park for decades. Michael and I have watched so many of our favorite bands play at the amphitheatre here from Steve Miller and Hootie to Harry Connick, Jr.  Warm weather event planning can start soon when the Chastain Series dates are released, which has me already browsing picnic baskets like this super cute heart shaped one, an everything including wine and coffee version, a gold cooler bag or maybe even just a simple zipped boat and tote, for a night out this spring/summer.  In college and even post college we loved bringing in dinner and drinks for an evening show and now with multiple Whole Foods and The Fresh Market locations it should be so much easier to grab and go to take in for a night of live music. We may have had our share of nights out here, but we've spent just as many morning and afternoon hours playing at the playground with these guys.
This trip was clearly all about the playground to use of some of that endless energy and it may have been considered chilly even when the sun came out, but these guys didn't seem to mind the temperatures once they were running around and exploring all the new playground equipment and climbing in the tree house. They absolutely loved the conveyor belt slides, they were so cool!!! Here's the two big guys racing down the slides action clip  and Brookie's turn on his own sized slide.  Plus giant glider swings video where all four were swinging with some help from Daddy.  Last stop a motorcycle ride before heading to lunch nearby!
Ahhhhh, I love Chastain, the views and the neighborhood surrounding it are phenomenal…it's certainly on our favorite places to get outside list.  There are so many trees and so much space to run and play and the access could not be easier with parking right next to the playground and plenty of other street parking at the times we typically are out and about in Buckhead.  And post park play we usually grab lunch at some of our go to places.  See our lunch fun video and one more here at Three Dollar Cafe (I've been getting their chicken and cheese since college and their fries are so good too).  Another favorite of this crew in the area is Tin Lizzy's (we order the three amigos as soon as we get our table the seasoned tortilla chips are amaze) both are great for football watching and a late lunch for the six of us.  Three dollar does have added entertainment with dual driving video games to play so bring some change. It was a Sunday Funday for sure for this crew! xxxx jess
…
My Outfit:  Jacket: Moncler (old, similar Canada Goose in 5 color selections and this one on sale!!!) | Sweater: Equipment | Denim: Frame | Boots: Saint Laurent (old, similar here in identical light cigar color)
Michael:  Jacket: Tommy Bahama Patriots | Scarf: Moncler (old, Moncler) | Denim  (old, similar AG Jeans) |  Shoes (old, Slip-On)
Addy Kate: wearing my Longue Saison Moncler (old, I found the current season and it would be perfect on sale and with a gift card. My light Moncler is packable yet warm.  I've loaned this jacket to everyone and  even wrapped up Brooklyn in it when I don't have blankets with me, which is never…it's worth the investment only if you can get it on sale AND during a gift card offer here) | The rest of Addy Kate's outfit:  sweater and leggings | Favorite Boots: Toms on sale!!!
Guys: Alexander: similar Jacket, Denim, Jersey |Alex & Liam Shoes: J. Crew| Liam: Jersey, Pants, Hat
Brooklyn: Boots: UGG and Outfit: similar Ralph Lauren Fleece Coverall