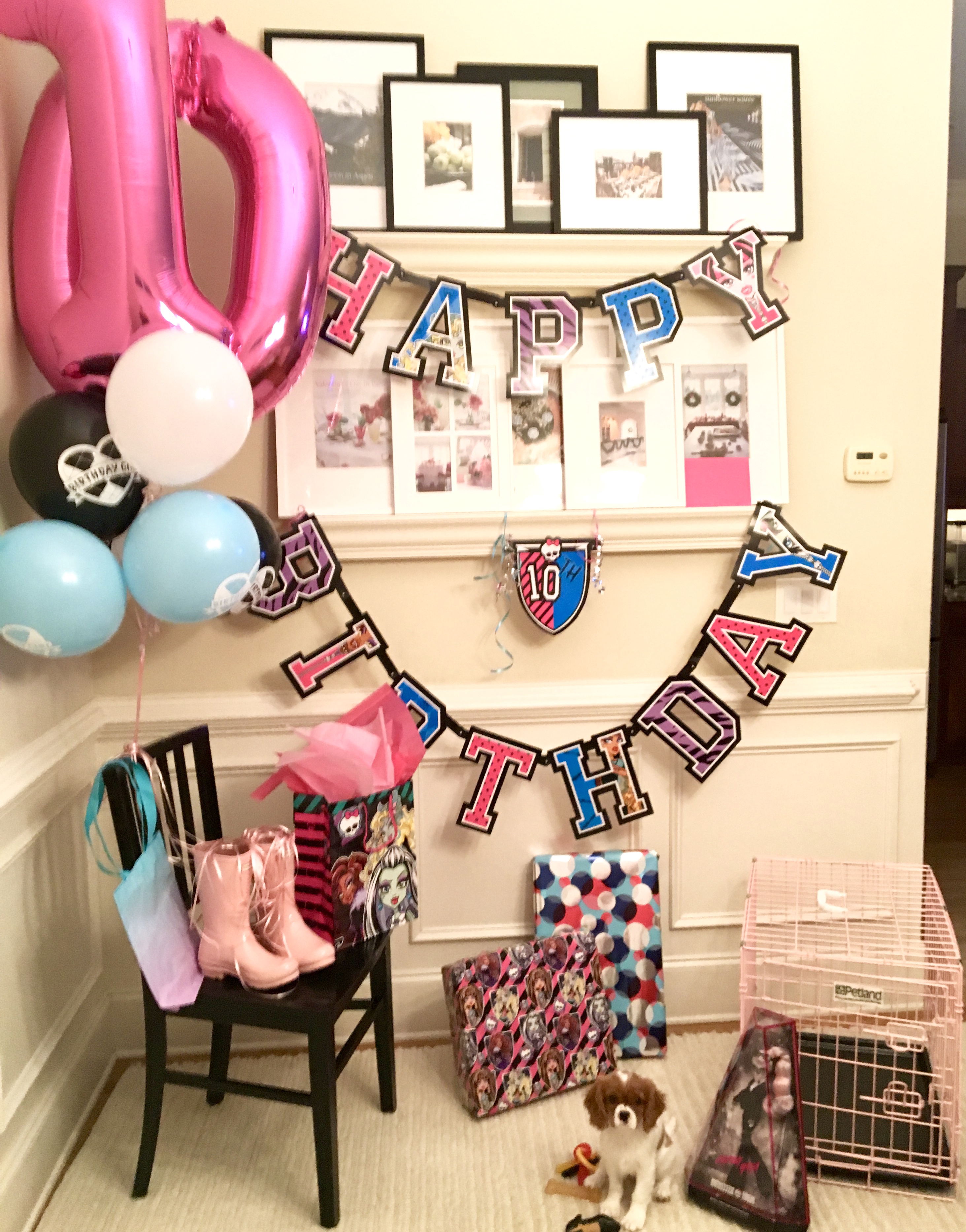 February or in Monster High way Febuscary #10 birthday! Zomby Gaga monster high themed!!!
My birthday was on a frightful Friday in Febuscary. It was the best birthday ever!  I got a cute little puppy. She is a King Charles Cavalier Spaniel. Her name is Chloé. I got earrings from my Aunt Malo. Another thing from my Aunt Malo was a really cool running outfit. Jen's present was an amazing spiky water bottle (everyone at school thinks it's so cool!!!) and some lulu headbands and sweatbands. My Aunt and Uncle, Mel and T.J. gave me a journal, stationary, a selfie-stick and a tee. The last and my second favorite present (my favorite was Chloé) was Zomby Gaga!! She is a limited edition. One cool thing about her was, like the real Lady Gaga, she wants to inspire every monster/person to join her in a worldwide kindness movement!!!! So you should do that too!!!
Let's party like a monster! With Zomby Gaga, Catrine DeMeow, Frankie Stien, Cleo De Nile, Lagoona Blue, Draculaura Van Bat, Clawdeen Wolf, Riversticks Reaper, Honey Swamp, Rochelle Goyle, Toriele Stripe, and Gigi Grant. One of my favorite toys are Monster High Dolls. Some of my favorite Monster High movies are 13 Wishes, Frights Camera Action, and Boo York!!! My favorite Monster High Doll is the pop star in Monster High form Zomby Gaga! Or in real form Lady Gaga. My outfit and party matches and is themed on Zomby Gaga.  The cool thing is that Zomby Gaga or Lady Gaga played the half time show at the super bowl. So I got to hear her play my favorite song that she made on the half time show. My favorite song from Lady Gaga is Million Reasons. Monster High is one of my favorite toys to play with (Brooklyn helps me with my set-up. Or at least tries!!! Monster High stage set-up  Video 1 |Video 2 | Video 3). That is why my birthday is Zomby Gaga themed. Zomby Gaga is a limited edition and hard to find. So get her now!!!
xxx,
Addy Kate!
…