The John Grisham book we bought Michael for Father's Day Camino Island …he's just now had a chance to read, is set on "a ten-mile-long barrier strip just north of Jacksonville" (Grisham, 2017, Chapter 2, p. 40). As Michael has read further in the book, he continues to find references to places on Amelia Island from The Ritz-Carlton property (we have stayed at previously several times and is stunning with the most amazing closets in their suites, they are long hallways lined in hardwoods which lead to a master bath with closets on both sides and a large mirror at the end of the long hallway, talk about design envy!!!!). The streets in the book too are spelled closely to Fernandina Beach where nearly all these photos were taken. Alexander was bringing the book to me and remarked even the front cover looks like the boardwalks over the dunes that take you to the deep sand and a view of the Atlantic where we spent mornings, days and sunsets at the beach. Grisham certainly picked a perfect paradise for the setting of his newest thriller.
The sand was exquisite, the beach was secluded and private with no one ever set-up near us on the beach and very few people even walking by and the surf at times was breathtaking with large foamy waves that created a mist down the beach. We've been to this beach several times from staying in the high rise hotels to a house within a five minute walk to the beach with no high rises in sight.
From Atlanta, Amelia Island is an estimated six hour drive. It's just long enough to make sure to pack drinks, a lunch and snacks, but not too long where everyone is travel weary. We were able to get a full morning as in hours of swim practice for all three in prior to leaving and still arrived before dinner for plenty of pool and beach time. Our days were spent walking to the beach down a long bricked path. The walk to the beach could be counted in minutes or just long enough for this crew to sing "ONE, TWO, THREE… BEACH!!" Once we made it across the boardwalk there was hours in the sun playing in the sand and jumping the waves then back again to the house for lots of time poolside and swimming. The activity levels were off the charts all week with so much walking, playing and swimming.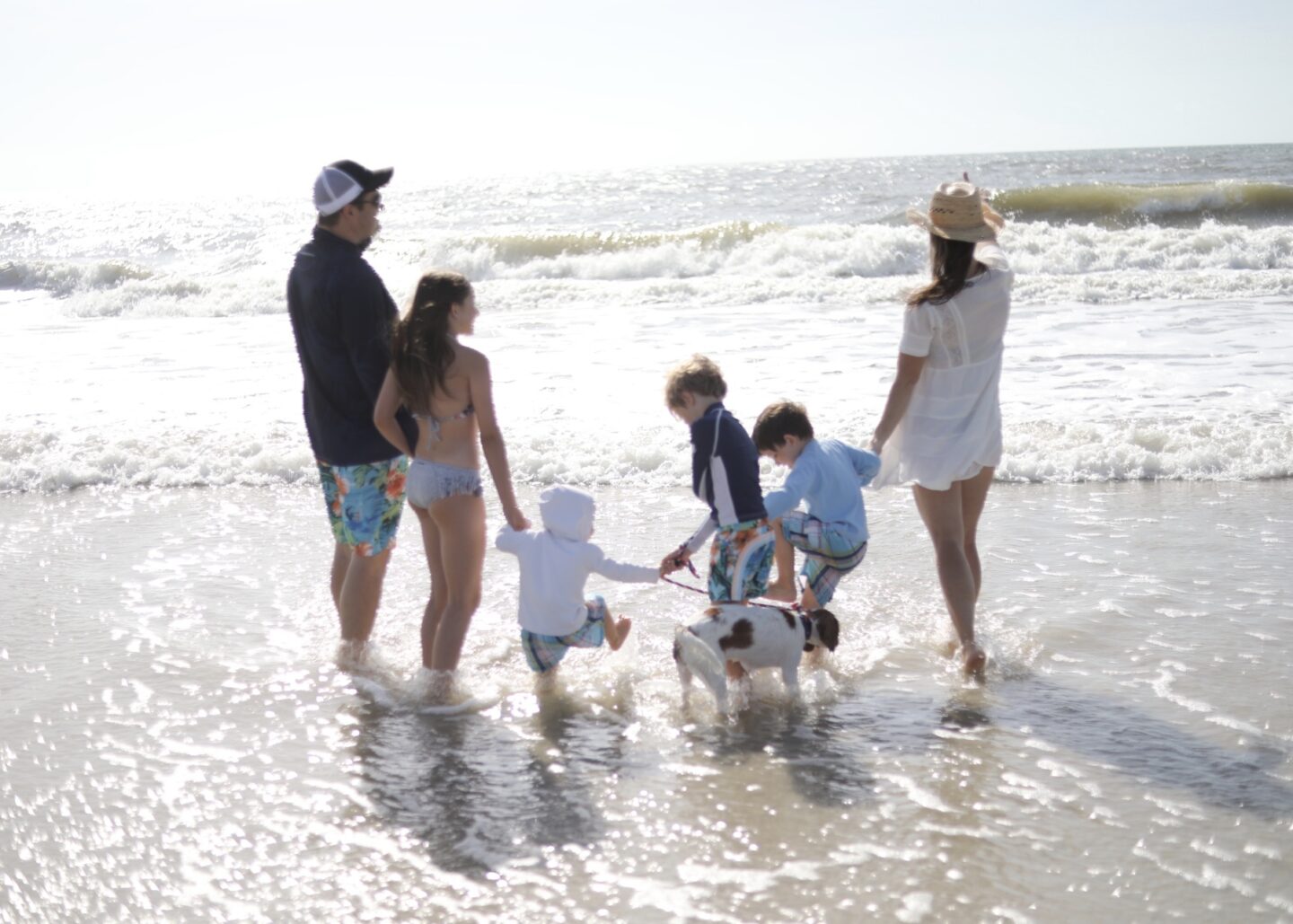 Addy Kate and I fell in love with everything at the local surf shop, Driftwood, across the street from the beach and is family owned and operated by surfers since 1979. We proceeded to wear only our daily purchased items nearly the entire week!!! My dress, hat, swim top and bottoms and Addy Kate's swim were on repeat all week and made us feel like surfer girls minus our boards. We only had dinner out once at Timoti's Seafood Shak featuring a boat playground with picnic tables outside and an order as you walk in place in the charming historic downtown of Fernandina Beach. As we walked through the area it like it had so many options for those who want to dine out more often and this all area guide looks perfect for dining and so much more about traveling to Amelia Island.
On summer solstice we couldn't pass up soaking up every second of the longest daylight of the year without getting a round of six soft serves at dusk (plus ice waters) at Denuccis. Even though Brooklyn's ice cream hit the floor the second after the photo was snapped, everyone shared with him and me too!!! It may have been a low-key week with lots of things we do everyday at home like grocery shopping at Publix and trips to Starbucks for tea for me and sun break and snooze for Brookie, except the playground time was right next to the ocean and volleyball had beach courts with endless sand, plus sparklers by the pool and of course plenty of nighttime movies leading to lots of late bedtimes.
A recap of instagram stories for the whole week with everything from the beautiful surf, to the sand, swimming, even Starbucks, Little Mermaid movie night to sleeping in the surf room, playground, beachside volleyball… almost a peek at everything is in these clips! 1.Amelia Island Video Monday 2.Amelia Island Wednesday 3.Amelia Island Video Saturday
Amelia Island is certainly a beautiful place to inspire a novel AND for a vacation everyone fell in love with!!! xxxxjess
Grisham, John. (2017). Camino Island (1st ed.). New York: Doubleday.
SaveSave
SaveSave
SaveSave