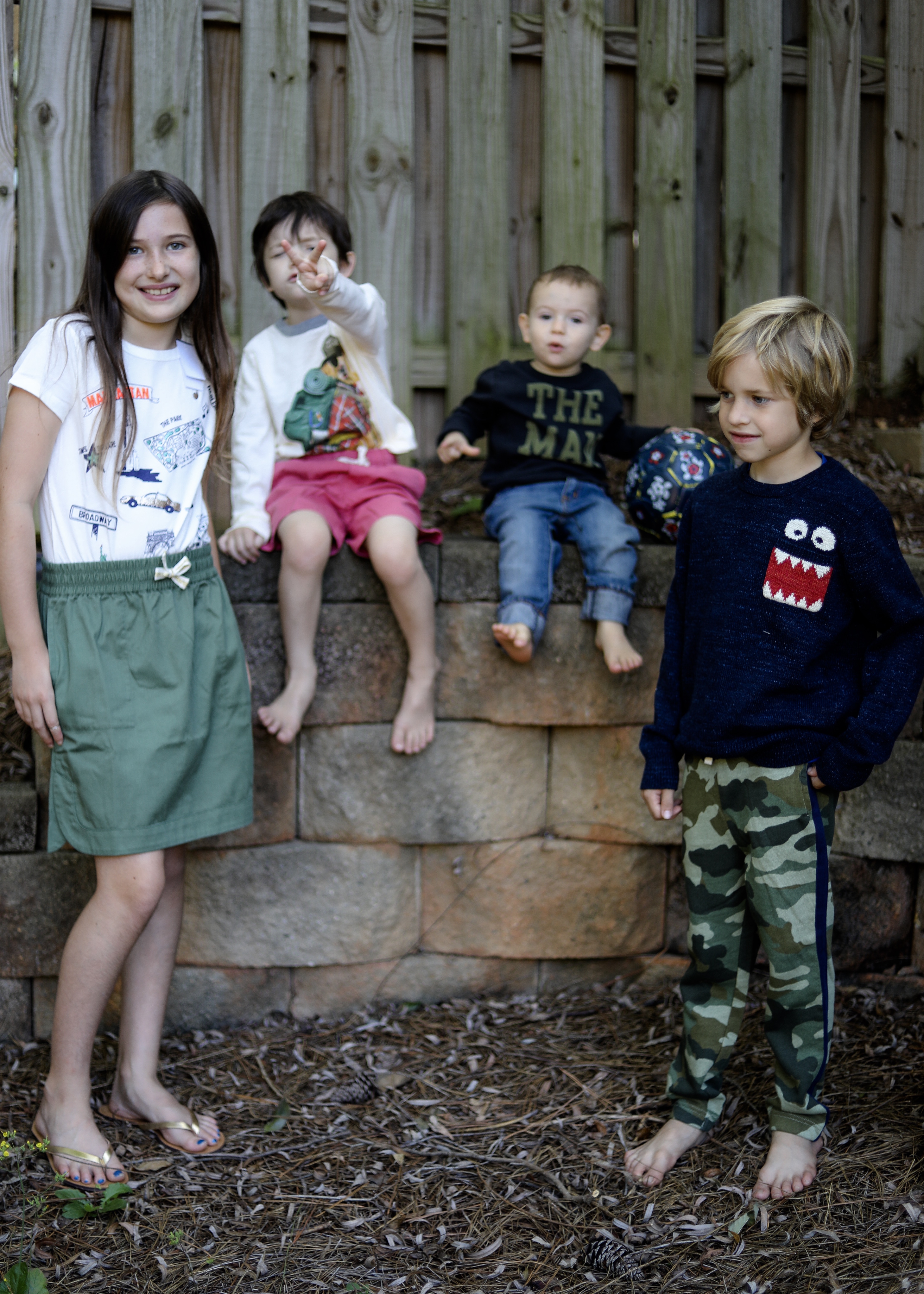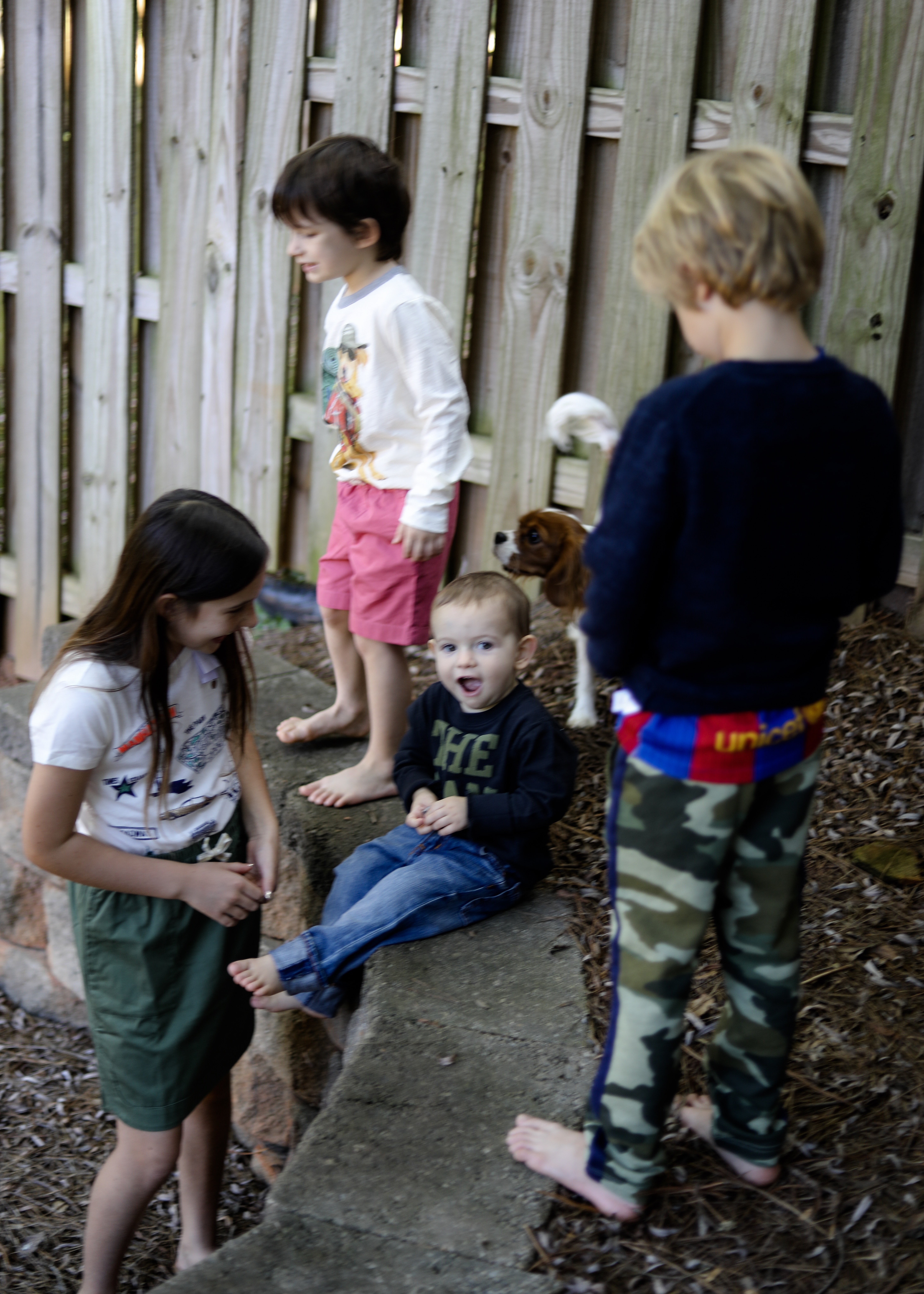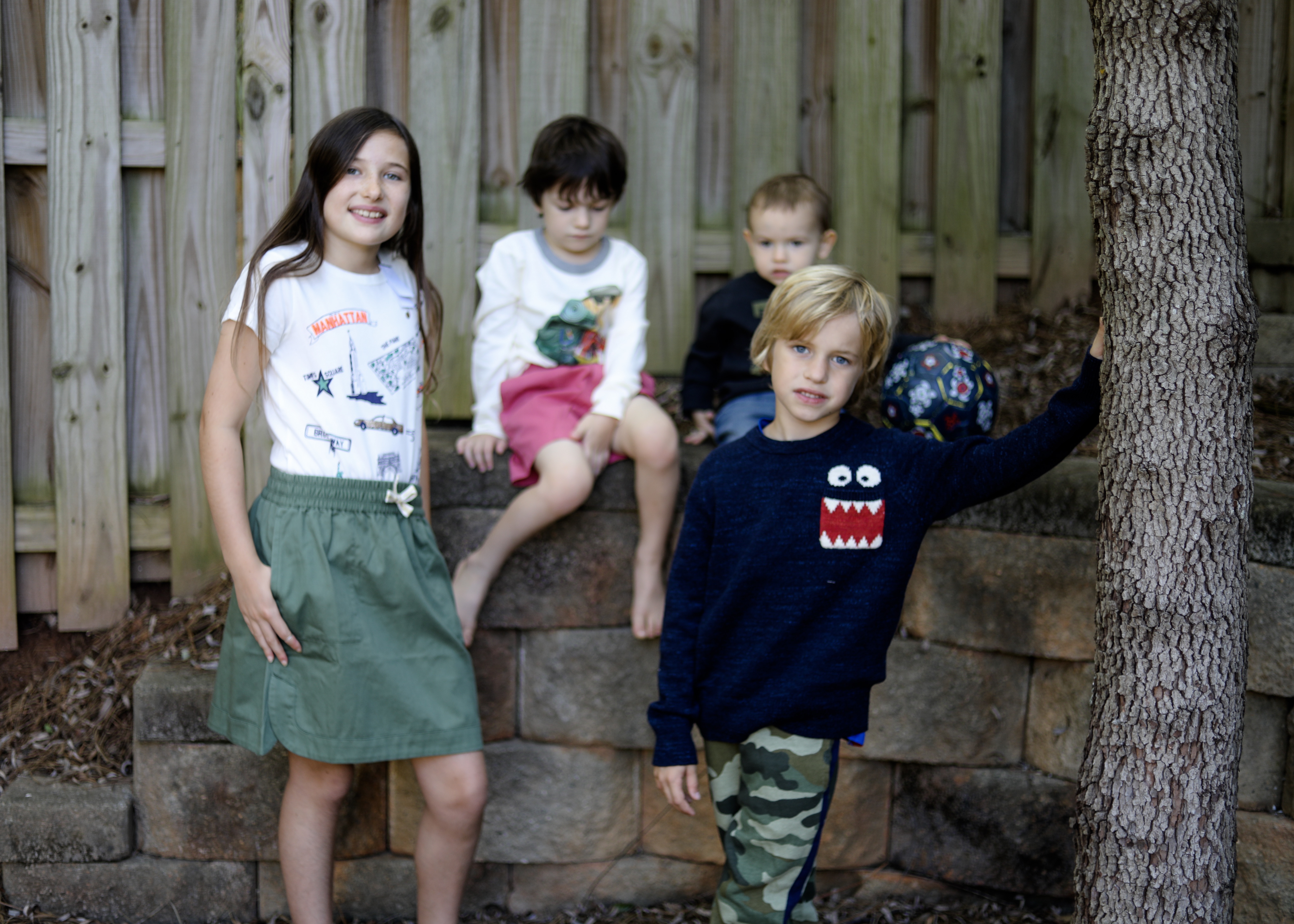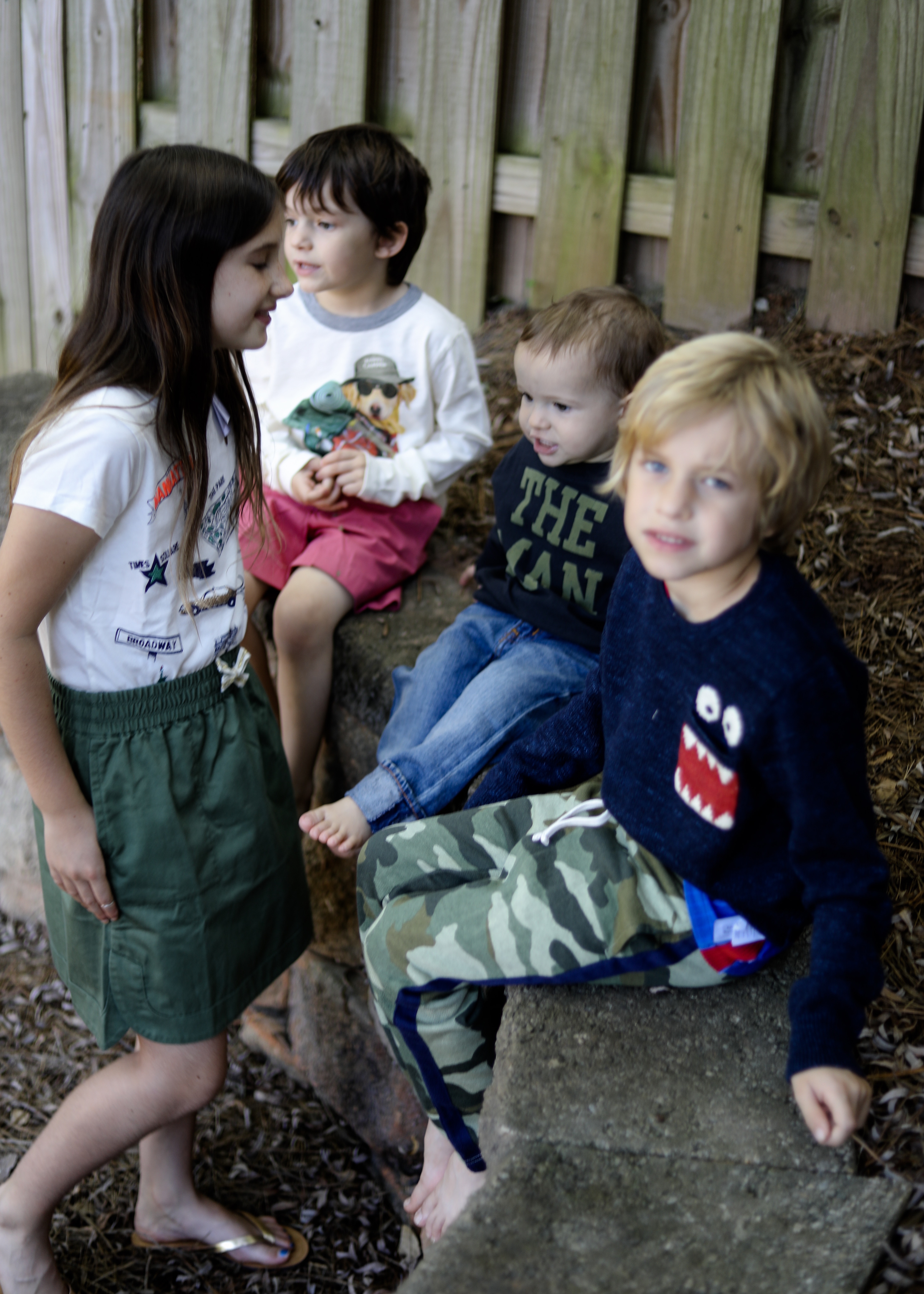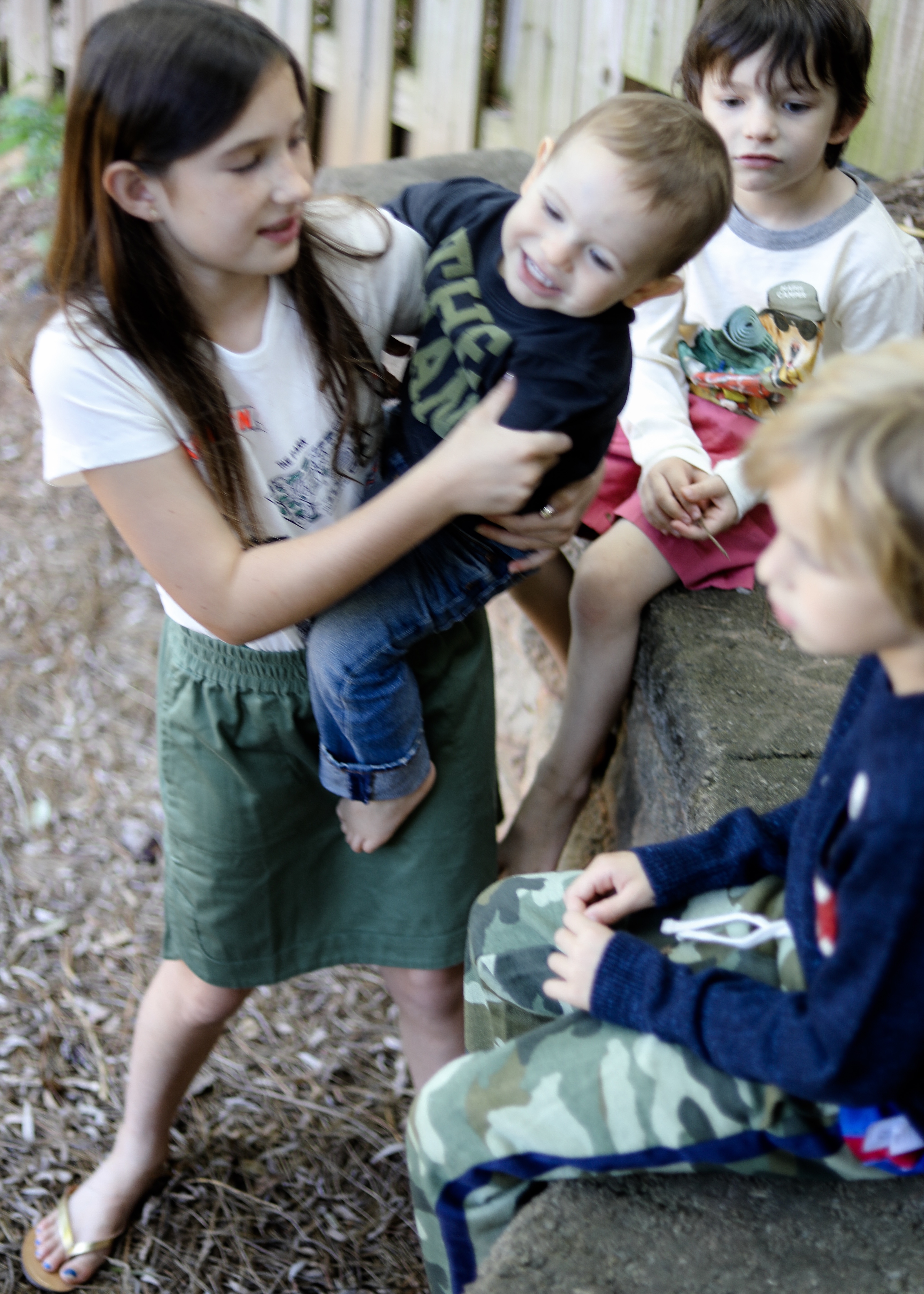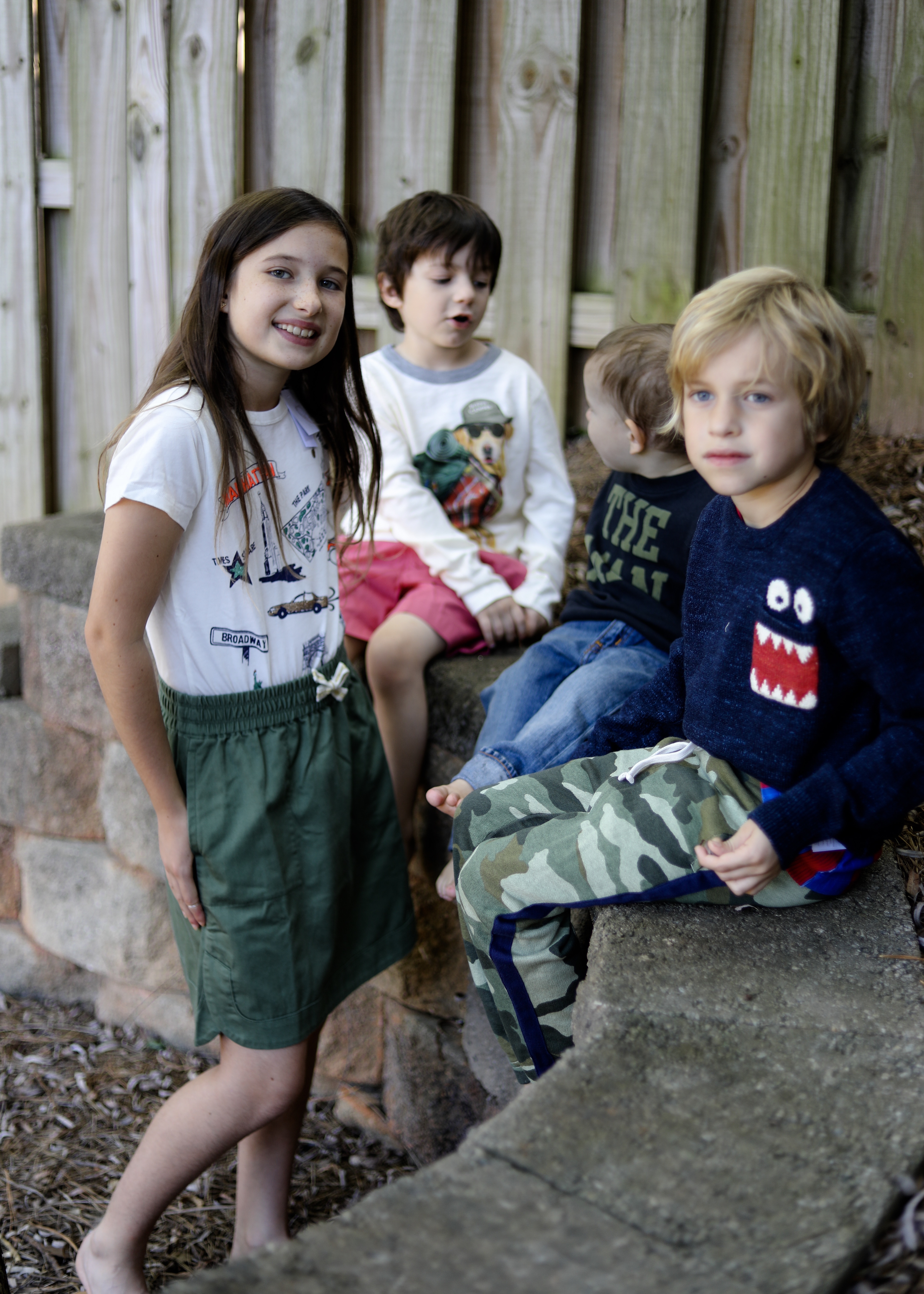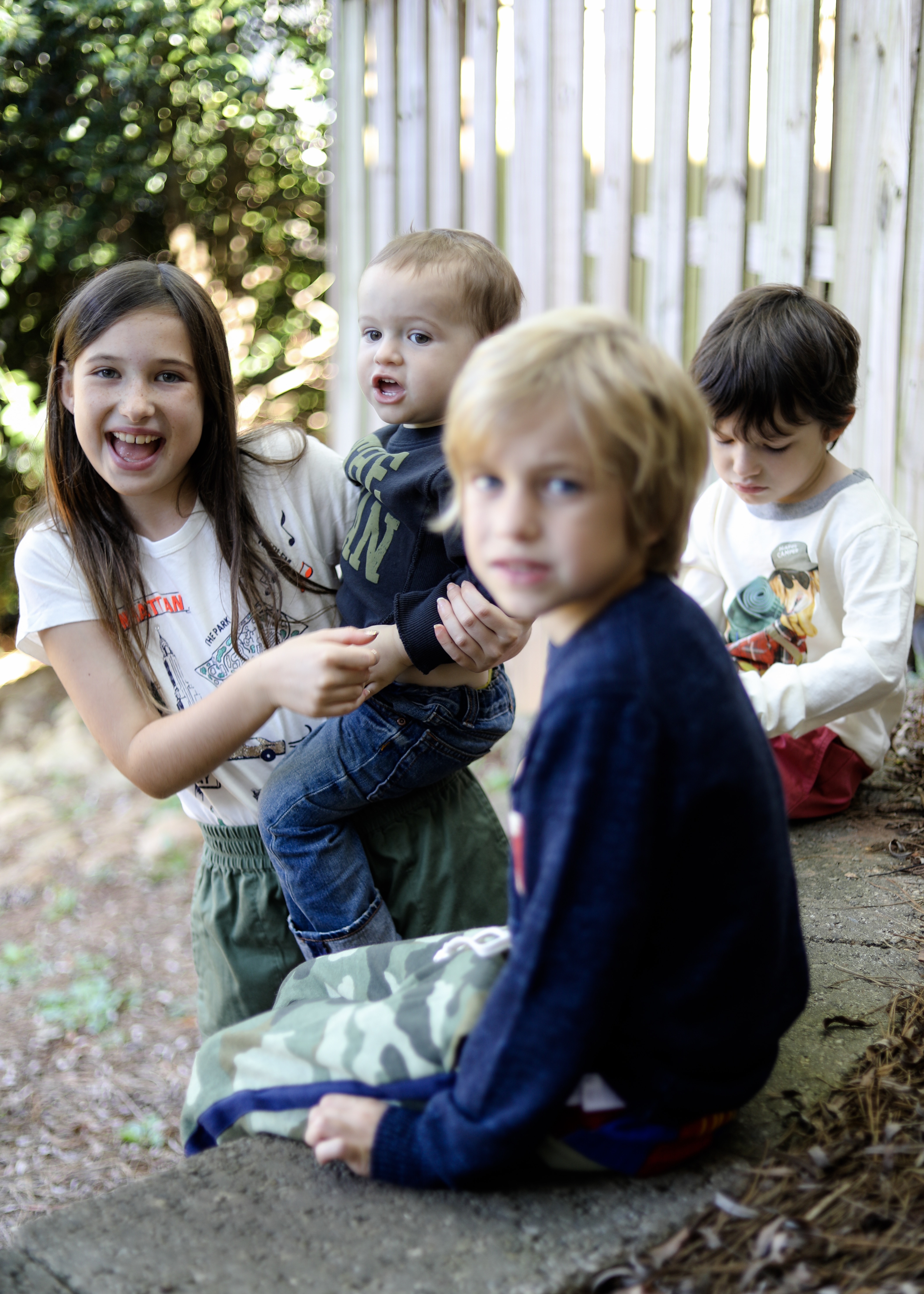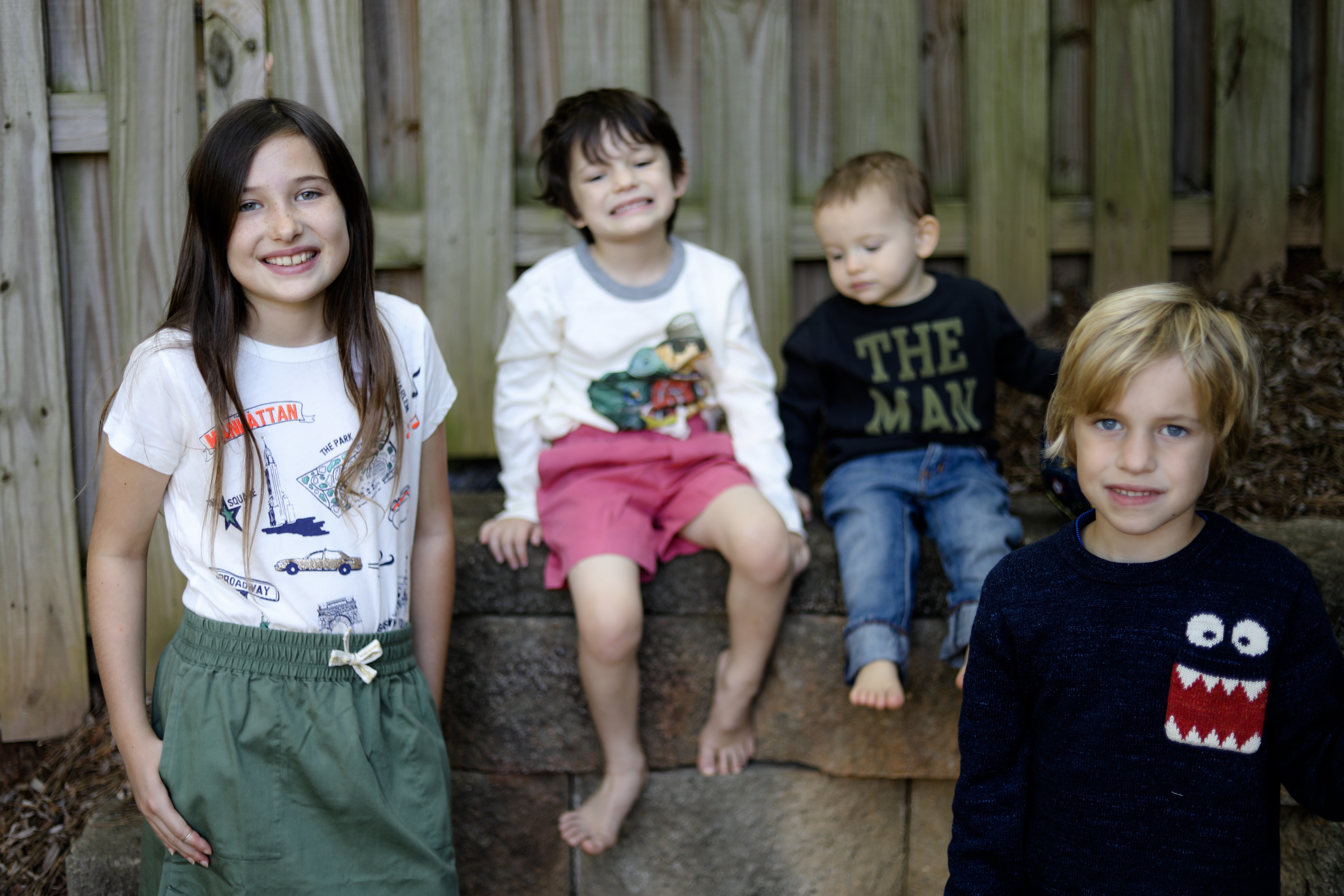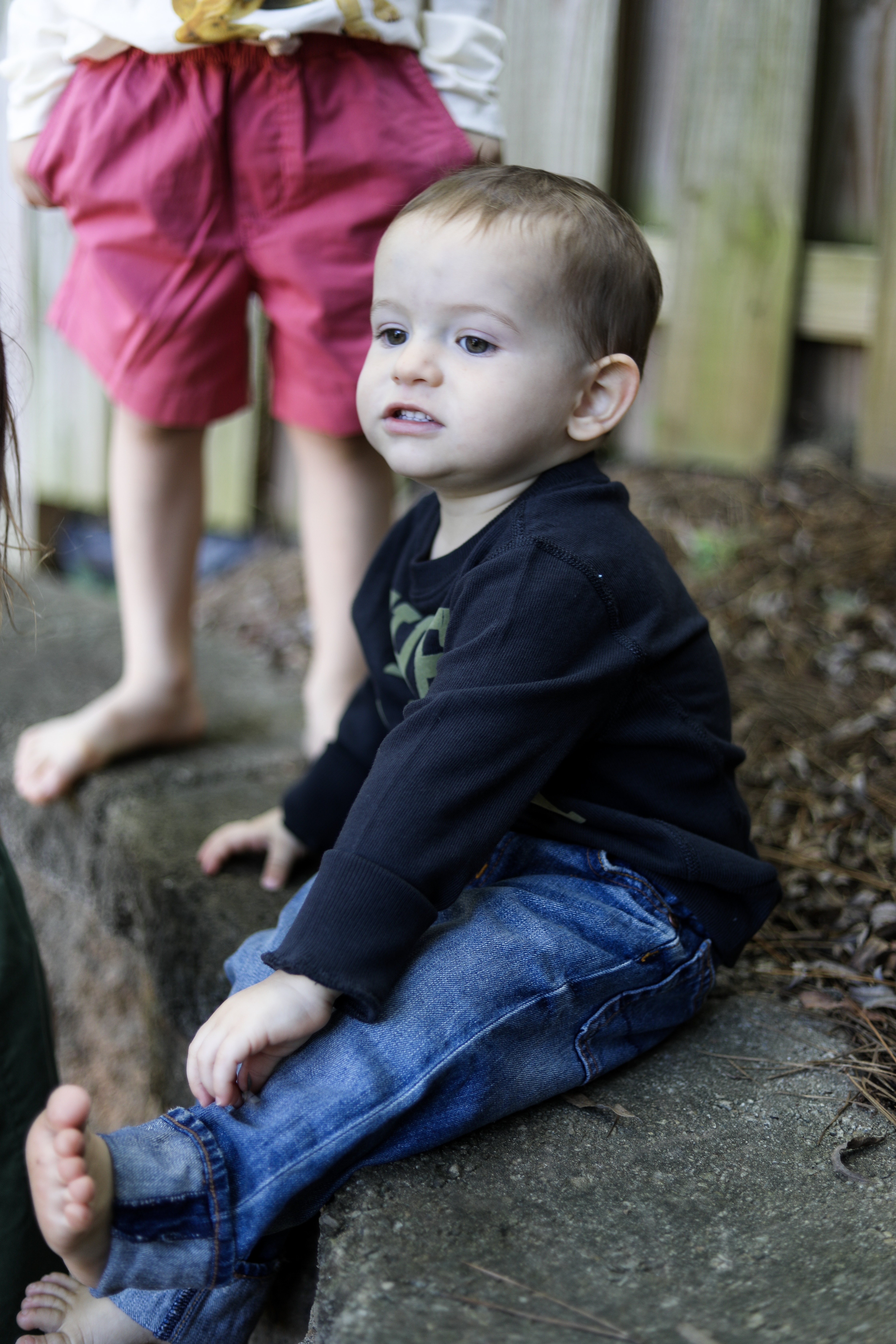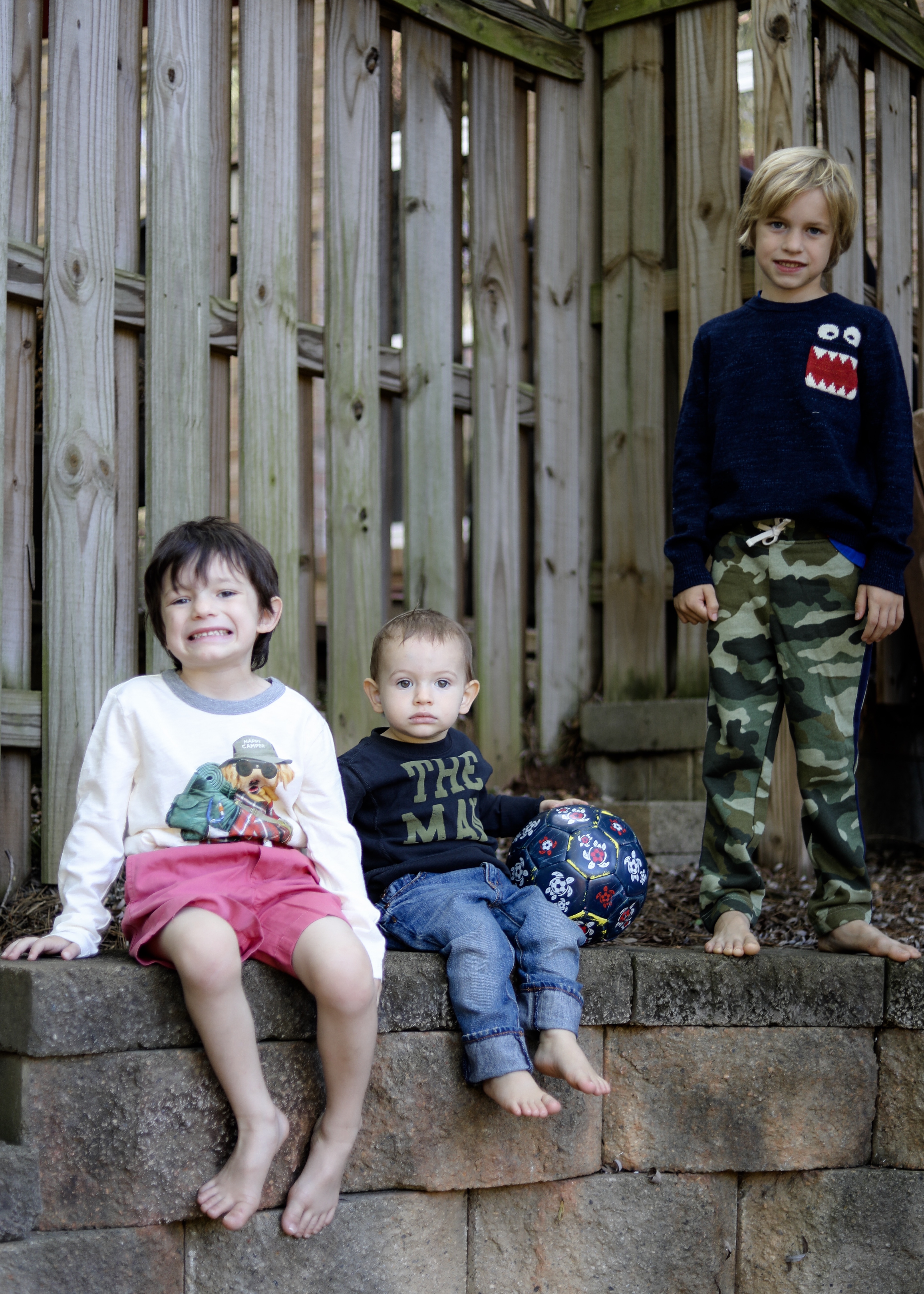 Being the only girl (and the oldest) of a seemingly fraternity of little guys takes a certain amount of tenacity, compromise and simply survival skills. Our guys are wild, full force all over the place, making messes, seeking and destroying every second of every day. They fight each other, they take on their sister and they require continuous reminders, requests and full out demands to listen, behave and really just be! They climb on counters, jump on furniture and leave toys, clothing and everything else in their paths.  It is full on chaos AND noise from morning until night and their energy levels are like wild little puppies requiring constant outdoor play, sunshine and running.
Addy Kate certainly has not mastered her brothers or the inevitable frustration that comes with having so many wild guys constantly in her space and in her head. She is often tasked as well to help with everything from water, to snacks and meals, to showers and bedtimes and bedtime reading to helping them get dressed to taking them outside to play.  She has however learned to do homework, read and play in her own space, while keeping her stuff out of their reach and running full speed ahead of them and at them when they play everything from soccer to scootering.  It's their advantage of having a big sister like her, someone to always help and someone to go to. Addy Kate's big sister skills are now more automatic and instinctual for her after years of an entourage of little brothers.
Having a crew of guys hasn't stopped either of us from keeping them looking cute while living in this frat house of chaos. Our recent finds are a fall palette of army greens with a mix of blues and reds. Addy Kate's skirt adds an edge of feminine and her Manhattan tee with gold accents gives the look some sparkle to pair with the guys go to casual of shorts, denim and camo. We like to style the guys in graphic tees like the happy camper, googly eyed monster sweater and of course The Man sweatshirt. Like everything else sometimes our outfits and our days we go for the glam (and plan our girls escapes) and sometimes we're powering through our house and our days with our entourage of guys.
From Addy Kate:  When I want a break from the wild guys I usually read or play with my monster high dolls!! My favorite series is the original monster high series!! The first book features Frankie Stein Monster High, the second book features Cleo de Nile The Ghoul Next Door, the third book features Clawdeen Wolf Where There's a Wolf, There's a Way, and the last book features Draculaura Back Deader Than Ever!! My favorite Monster High doll is Emoji Frankie Stein!! P.S. I am going to be her for Halloween (emoji tee, Frankie Stein tutu with leggings , wig, makeup and blue velvet hi top converse)!!
Addy Kate loves her ghouls AND her guys!!! xxxx jess and addy kate
…