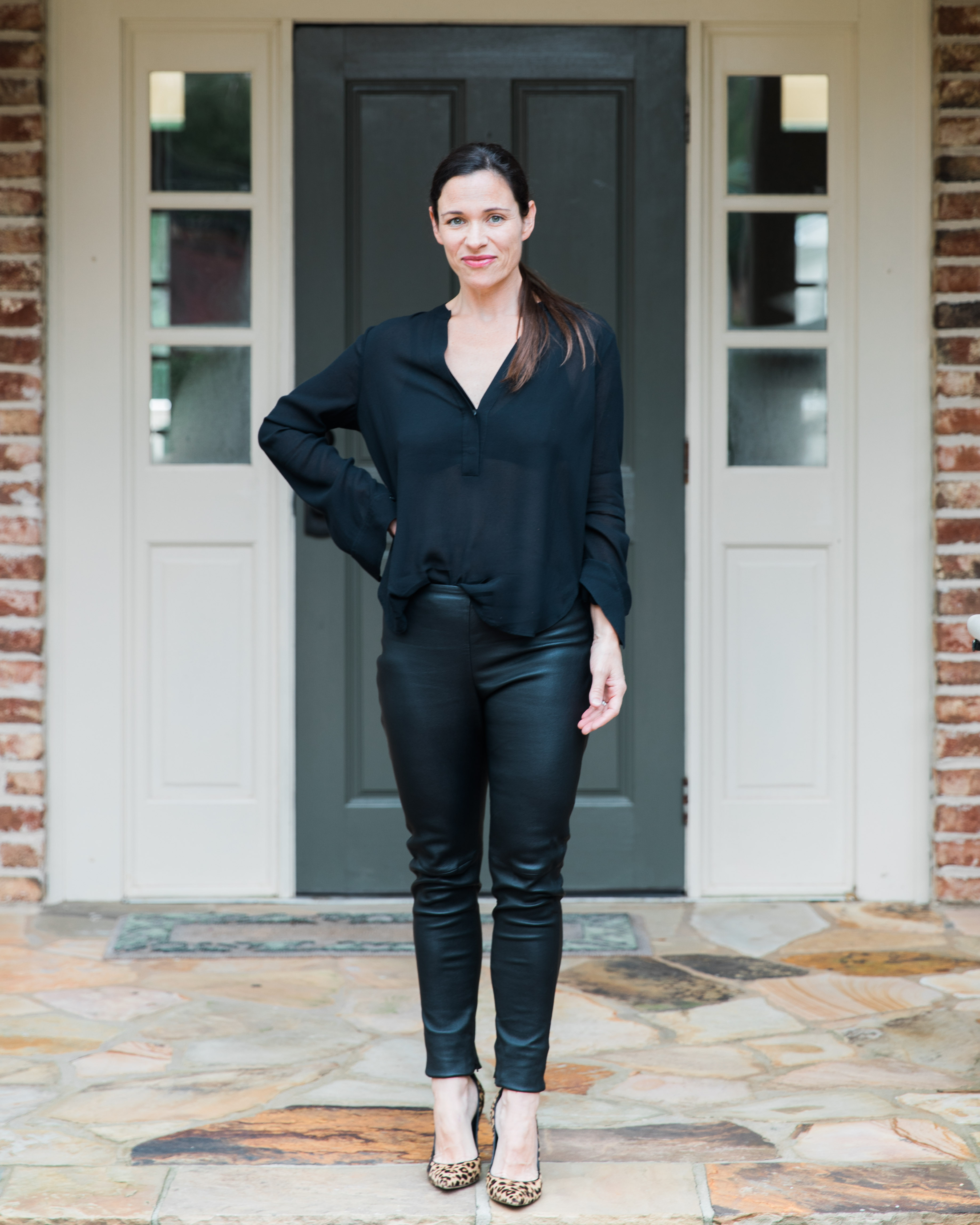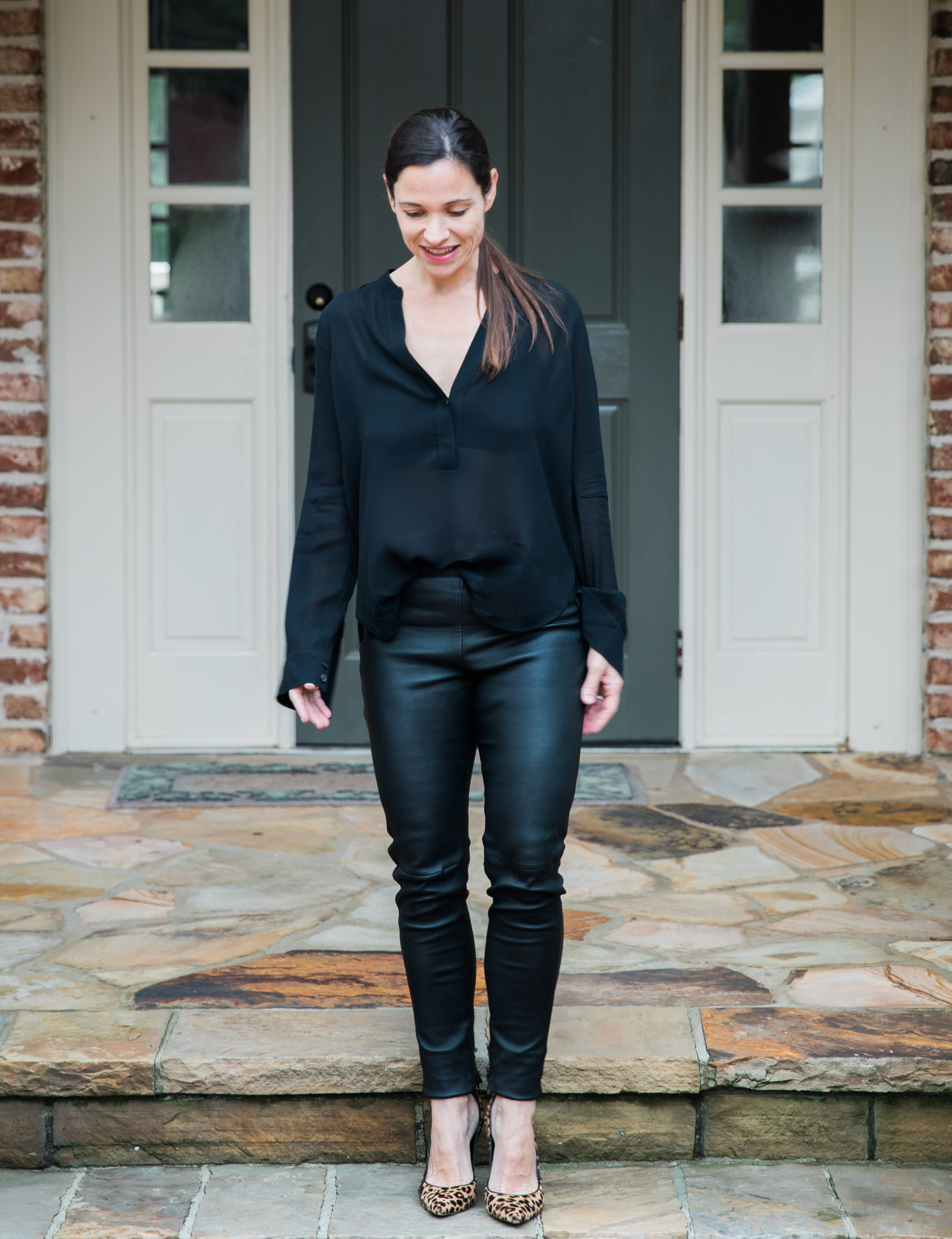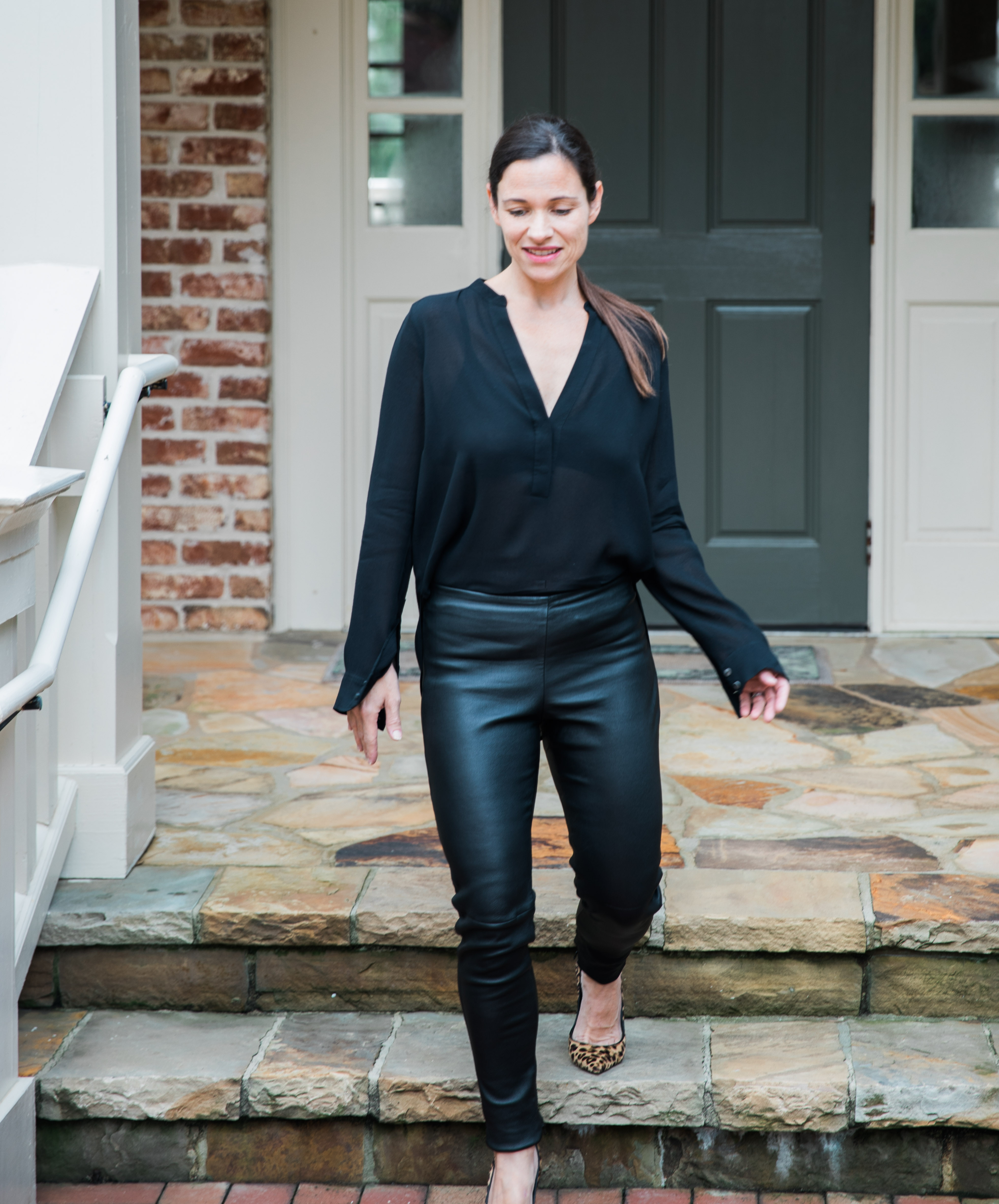 Addy Kate has had Friday the thirteenth spelled out in her agenda for weeks. She's an expert on all things Monster High and Friday the thirteenth is a big day for her favorite ghouls. Likewise it's a big night here too.Our favorite ghoul has it all planned for a pizza party and Ghostbuster movie watching night. In addition to movie fun, I'm getting a head start on Halloween with an all black outfit. Furthermore, I'll take fashion inspiration wherever I can get it, especially the stylish Monster High ghouls who love leather leggings and leopard heels. It's a Friday the thirteenth style for a low key night!
Leather Leggings and Leopard Heels
The semi-sheer black top keeps this outfit comfortable, cool and casual yet dressed up from my normal tees. And the leather leggings and the leopard heels elevate the outfit for a Friday night out. A black top, leather leggings and leopard heels are essentials in my closet collection. As a result these three easily mix and match with so many other closet pieces.
Monster High
Especially relevant on a Friday the thirteenth is Monster High. Addy Kate loves to celebrate all things ghoulish. Most noteworthy is her ten candles birthday, one of her favorite gifts was Zombie Gaga. And they are technically monsters daughters (and a few sons) like Frankie Stein and Draculaura. Friday the thirteenth is their legendary day.
Since it's almost Halloween, what better way to kick off the spooky season with a classic movie night on Friday the thirteenth!!! In addition, it's a perfect day for Monster High fashion inspiration for me with leather leggings and leopard heels. What are some of your favorite Halloween movies? Finally, have a great fright night! xo jess

Shop Outfit
As shown above, similar Frame leather leggings or exchange version of faux leather leggings, Vince black top or similar semi-sheer black top or sleeveless top, and leopard heels or exchange version here and this pair of leopard sneakers!
As has been noted the affiliate links in content allow Dusang Exchange to receive a commission at no additional cost to you.
SaveSave
SaveSave
SaveSave
SaveSave