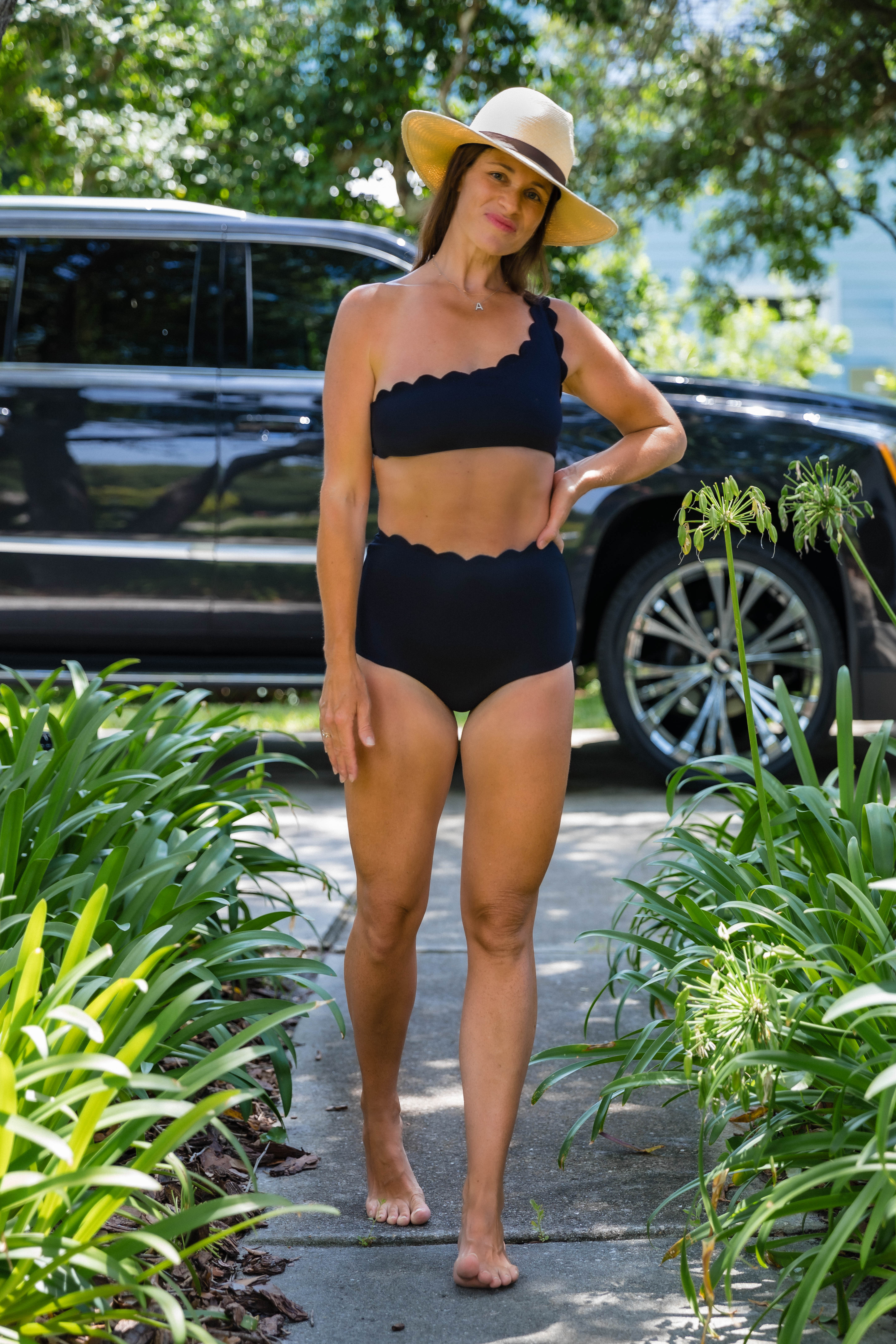 I have been eyeing this Marysia one shoulder bikini for months. And by months, I mean multiple seasons both spring and summer. I typically gravitate to classics for closet essentials like swim. Finding particularly a swim in the right fit, color, and style is rarely a walk… on the beach. Enter in the Marysia one shoulder bikini. It is instantly beach or poolside ready. Marysia has a recognizable scalloped raw edge with basketweave fabric. This season I was loving the on trend nod with a one-shoulder top. As for the high rise bottoms, they are quite simply and basically, comfortable.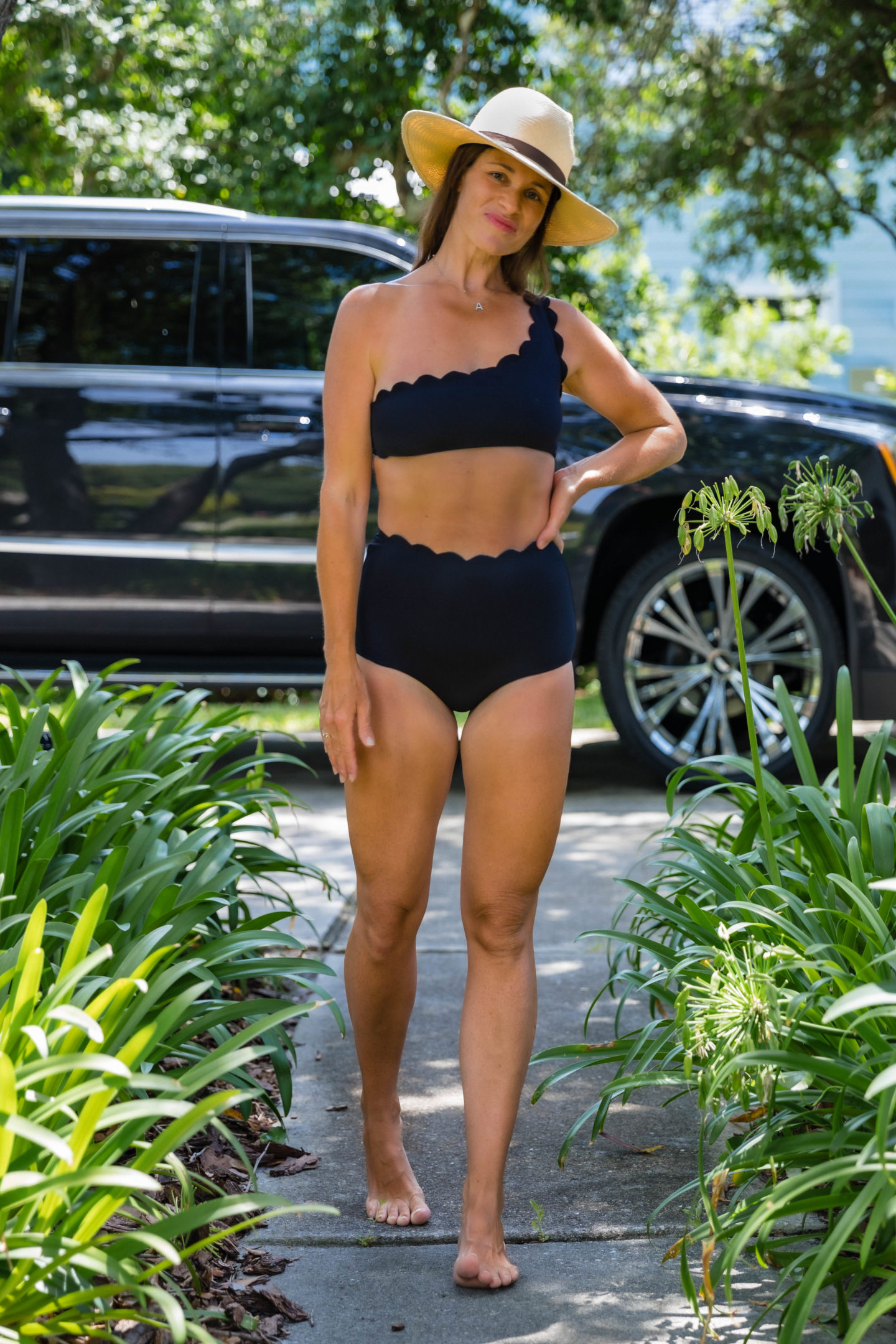 I recently wore the Marysia one shoulder Santa Barbara top under my favorite Zimmermann gingham one shoulder dress. A Saturday night at the zoo with this crew. Even though, it was a very hot night out in Atlanta. I almost forgot I was wearing the swim top under my dress. Of course, our Atlanta August temps have hit 100F a lot this year. Beachwear certainly makes it tolerable. Even in our sweltering landlocked city. (Similar Ganni gingham prints: short wrap dress, midi wrap dress, midi dress, and sheath version here).
Mix and Match Marysia
In addition to Marysia's classic style is versatility. And the many combinations to pair tops and bottoms.
Marysia Tops
I'm wearing the one shoulder Santa Barbara top. For the most coverage, Marysia has the Mexico capped sleeve top.

There are two versions of strapless tops: the Antibes and Santa Monica for no tan lines. For swimming and play at the pool or beach are the sports style tops. There is the Palm Springs and mini Palm Springs depending on your coverage preference.

An adjustable tied Broadway top features thin straps. The Spring top has thicker halter straps. Both tied tops trend to a more classic bikini style. Likewise, a Santa Clara top that ties at the back with traditional shoulder straps. Lastly, is one on Addy Kate's wishlist. The Mott a high neck halter top that bares both shoulders.

Marysia Bottoms
Moreover, the bottoms are mix and matchable too. Bikini briefs in the Santa Monica and Palm Springs. A lower rise Santa Barbara bikini. A mid-rise boy-short Spring bottom. The classic bikini Antibes, and a low rise with minimal coverage string side ties Mott.

Similarly, color options are almost as various as the versions. Classic colors include black and coconut. The seasonal prints range from leopard to reversible gingham. Seasonal colors vary from cherry red, denim blue, and desert sage green to name a few.
Additionally for sizing, I have found it to run true to size. I am wearing a size small in both the one shoulder Santa Barbara top and Palm Springs bottom. The size range is XS-L.
Finally, Marysia's scalloped raw edge look is available in several versions as a full piece Malliotts. The full strap Palm Springs, one shoulder Santa Barbara, halter Santa Clara, and strapless Santa Monica, and my favorite the capped sleeve Mexico Maillot. Likewise, the Marysia Maillots could easily pull double duty as bodysuits too!

One Marysia scalloped cut swim that has so many options, Mary-siawimming!